Audiences with the Holy Father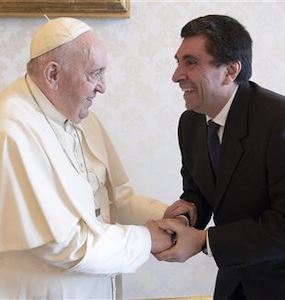 1/13/2023 | Stato della Città del Vaticano | Città del Vaticano
Udienza privata di papa Francesco con Davide Prosperi – Private Audience of Pope Francis with Davide Prosperi – Audiencia privada del papa Francisco con Davide Prosperi – Audiência privada do papa Francisco com Davide Prosperi – Audience privée du pape François avec Davide Prosperi
Davide Prosperi, presidente della Fraternità di Comunione e Liberazione, è stato ricevuto in udienza privata da papa Francesco.
- Il messaggio a tutto il movimento dopo l'incontro con Francesco.
---
Davide Prosperi, president of the Fraternity of Communion and Liberation, was received in a private audience with Pope Francis.
- Prosperi's message to the entire movement after the meeting with Francis.
---
Davide Prosperi, presidente de la Fraternidad de Comunión y Liberación, ha sido recibido en audiencia privada por el papa Francisco.
- El mensaje a todo el movimiento después de su encuentro con Francisco.
---
Davide Prosperi, presidente da Fraternidade de Comunhão e Libertação, foi recebido em audiência privada pelo Papa Francisco.
- A mensagem a todo o Movimento depois do encontro com Francisco.
---
Davide Prosperi, président de la Fraternité Communion et Libération, a été reçu en audience privée par le pape François.
Son message au mouvement après la rencontre avec le Saint-Père.