Presentations of the book "Reawakening Our Humanity"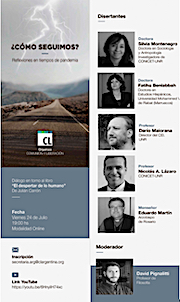 7/24/2020 | 19:00 | Argentina | Rosario
Modalidad online
¿Cómo seguimos? Reflexiones en tiempo de pandemia
Encuentro y dialogo sobre el libro de Julián Carrón: El despertar de lo humano. Reflexiones de un tiempo vertiginoso, entrevista de Alberto Savorana.
Rosario, 24 de julio de 2020, 19 hs.
Se podrá participar a través de la modalidad de zoom con previa inscripción ingresando al formulario de este link https://forms.gle/dzwow3HGy5am1G8m7 (para asegurar su inscripción llego se le confirmará dentro de las 24h) o viéndolo en vivo por youtube a través de esté link https://youtu.be/6HnyliH74xc

Participantes:
> Dra. Fatiha Benlabbah - Directora adjunta del Instituto de Estudios Hispano-Lusófonos
> Prof. Darío Maiorana - Director del CEI UNR
> Dra. Silvia Montenegro - Doctora en Sociología y Antropología. Investigadora de Conicet-UNR
> Prof. Nicolás A. Lázaro - Profesor en Filosofía Conicet-UNR
> Mons. Eduardo Martín - Arzobispo de Rosario

Moderador:
> David Pignalitti - Profesor de Filosofia

Organiza Comunión y Liberación.


Documents